In most cases, you're not going to get pest control in Colorado Springs for a fly problem, right? You're going to swat the fly and move on with your day. But, when flies keep coming back day after day after day, you might just think about it. House flies can be super annoying. They can also present a health threat. Let's take a look at why it is important to properly address fly problems, where flies reproduce, and the best way to get rid of flies in Colorado Springs.
How Dangerous Is It To Have Flies In My Colorado Springs Home?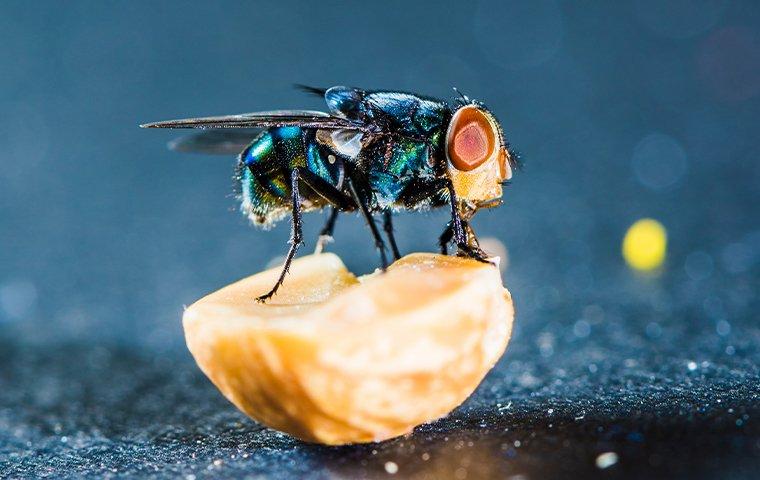 A recent study from Penn State has revealed that houseflies can spread more than 65 diseases. Why so many? Because house flies are garbage flies.
They feed on rotting organic matter in garbage and they're often born in garbage. This exposes them to microorganisms that can impact human health. This is one of the most important facts about flies you can learn.
If you keep having fly problems and you can't get control of them on your own, you should contact a professional. House flies are more than annoying. They have the potential to make you very sick.
What Causes Fly Infestations In Colorado Springs Homes?
We have several pest flies in Colorado Springs. These different flies reproduce in different ways. Fruit flies lay their eggs on fruit and produce. Fungus gnats lay eggs in potting soil. Phorid flies lay eggs on human and pet waste. Drain flies lay their eggs in drains (big surprise). House flies and bottle flies are garbage flies. You can expect them to lay their eggs in garbage. They also commonly lay their eggs on pet or livestock waste.
The reason fly infestations begin is that these different flies find the conditions they need in order to reproduce. If you want to stop a fly infestation or prevent a fly infestation from beginning, you need to consider potential breeding sites and address them. Do you hang up sticky traps or use some other trap to deal with flies? We don't recommend leaning on control products to catch flies. You'll only be dealing with the symptom, not the source. The best way to keep flies away is to do both. Hang those sticky traps up, but locate breeding sites as well.
Effective Fly Prevention Tips For Colorado Springs Homes
Along with controlling breeding sites and hanging up sticky traps, there are some general pest management methods you can use to prevent fly infestations. Use these to help you keep flies away:
The first, and most important, prevention step you can take is to seal your exterior. This will help to keep house flies, fungus gnats, phorid flies, drain flies, and other flies from getting in. Seal gaps around exterior doors, windows, and utilities, and seal cracks, gaps, and holes in your exterior.

Prevent flies from flying into your home through open doors by replacing exterior white lights with yellow lights. Insects are attracted to white lights and are unable to perceive yellow light. This simple tip can keep flies away and prevent accidental entry.

Put all garbage in covered containers and keep your containers free of the strong odor that can attract flies. Store garbage well away from exterior doors.

Stay on top of pet waste clean-up. If necessary, create a fenced-in area for pets or livestock to keep them away from your exterior.

Remove any rotting vegetation from your landscaping.
Total Fly Control For Colorado Springs Homes
Now that you're equipped with a few important facts about flies and fly prevention, what do you do when you can't figure out where the flies are breeding, and what do you do when flies keep driving you crazy? We hope you'll consider reaching out to Beeline Pest Control. Our licensed pest professionals use industry-leading methods and products to solve difficult fly problems, and they rely upon the assistance of industry experts to get to the bottom of even the most mysterious fly infestations.
At Beeline Pest Control, we also help to stop fly infestations before they begin. Our year-round home pest control gives your yard, landscaping, and perimeter what it needs to stop pests in their tracks. We target the zones that need to be targeted, and we use pest maintenance and trusted products to create a barrier pests can't get through.
If you'd like to learn more about home pest control or begin pest control service for your Colorado Springs home, we'd love to talk with you. We're here to help you get to the bottom of difficult and mysterious pest infestations, and help you protect your health and property from potential threats pests can present. Reach out to us today and speak with one of our friendly and knowledgeable agents to get started.