Termites are wood-damaging pests that come into Colorado Springs yards looking for food. As you probably know, the food they eat is wood. If they discover the wood inside your home, they can do a lot of damage over time. One way you can prevent damage is to watch for warning signs. Unfortunately, the signs of termites are subtle. Don't expect to quickly notice a termite-infested tree next to your home or to cut off a chunk and uncover hundreds of termites inside. Signs of termites in trees are just as hidden as termites inside your home. These insects feed inside the wood they eat and don't come out into the light. Termite workers are so averse to light that they even avoid moonlight. But there is one kind of termite in a termite colony that doesn't mind the light. It is actually attracted to light sources. It is called a swarmer. We're going to talk about this kind of termite today. We'll look at how to detect active termites, what to expect from termites, what attracts them, and how to protect your property. If you need immediate assistance with termite control in Colorado Springs, jump over to our contact page and connect with us by e-mail. Beeline Pest Control offers smart and trusted termite pest control in Colorado Springs.
What Does A Termite Infestation Look Like?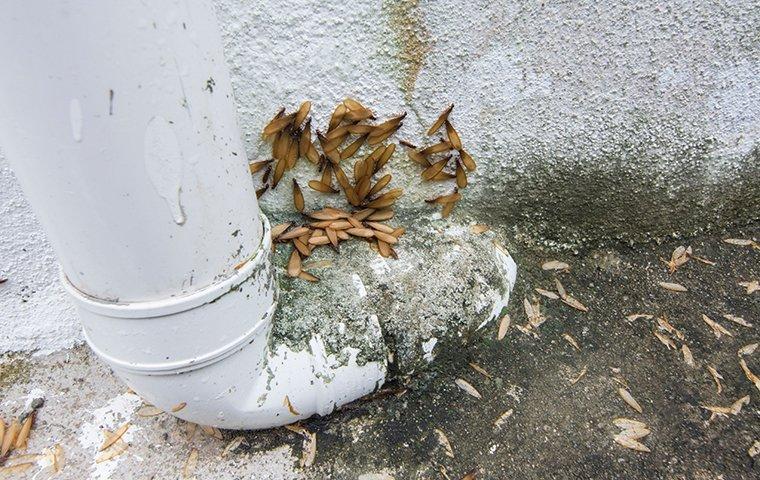 At first, an infestation doesn't look like anything at all. Termites create nests in the soil and stay hidden from view as they tunnel in your yard and work their way into your home. It is also hard to find evidence of termite damage. Termite workers create extensive tunnels with structural timbers without breaching tunnel walls. You can have a million termites in your home and not know it. The most obvious sign of a termite infestation is the appearance of termite swarmers. But detecting swarmers isn't a great way to detect a termite infestation. A termite nest must mature before it will begin to produce swarmers, and it takes more than three years for a nest to mature. That is at least three years that worker termites will have to damage your property. However, it is still important to know what termite swarmers look like and how to detect a swarm. It is best to catch an infestation late than not at all.
A swarmer is entirely black except for its wings.
The wings of a swarmer are white.
The entire length of the insect, including the wings, is about ⅜ of an inch in length.
The wings are a stretched teardrop shape when stacked on top of each other.
Compared to the body, the wings are twice the length.
The wings hang past the end of the abdomen of the insect.
Swarmers have three body parts, six legs, and two antennae.
Swarmers gather together in a swarm while mating.
Swarmers are drawn to light sources at night.
Swarmers shed their wings before they disappear into the ground to start new nests.
While swarmers are the most noticeable evidence of a termite infestation, there are a few other ways you may detect an infestation. Subterranean termites have common behavior patterns. You can use these behavior patterns to find warning signs.
These termites create tubes of mud on foundation walls to go from the soil up into your home.
These termites eat wood sources that sit on the ground, so you may see them when you pick up dead branches in your yard.
These termites eat soft wood and prefer wood that is rotting, so you may remove dirt near the base of wood supports to detect termite activity. You are also likely to find damaged wood near moist soil in shaded locations, such as underneath a deck.
These termites commonly get into wood sources under decks and in crawl spaces. Use a flashlight and check underneath objects that are stored on the ground.
Now that you know how to detect termites and warning signs, let's turn our attention back to those swarmers. What does it mean when you find termite swarmers around your property—or worse, inside your property?
How Worried Should I Be If I See Termite Swarmers Around My Home?
It is definitely not a good sign to find a termite swarm in your home. Subterranean termites rarely emerge from their tunnels indoors. The reason is that the nest is outdoors. When the swarmers leave the nest, they are going to work their way to the surface of the ground and take to the air. If they emerge indoors, it means you have a nest that is near or underneath your home. That is bad. The close proximity of the nest allows worker termites to go back and forth from the nest much faster, and to do more damage over a shorter period of time.
When you find termites on your property, but not indoors, is that a bad sign? Not necessarily. But it is not a good sign either. Here are a few things you should know about swarmer termites:
Swarmer termites are reproductives. When they leave the nest, they have one thing on their mind. They are on a mission to create new nests. During the mating process, they select a life partner, select a location, shed their wings, and get to work establishing their nest. They aren't interested in traveling. Therefore, they are typically found near the nest that produced them.
Sometimes swarmers don't travel more than the distance worker termites travel to find food. A worker termite will tunnel up to a hundred yards from the nest, so it is possible to have swarmers in your yard that came from a nest of workers that are already damaging your home.
Sometimes swarmers are found before they take to the air. If you rake mulch aside and find a sheet of white-winged insects, you are on top of a subterranean termite nest. That is a very bad sign.
It is always wise to contact a certified termite control professional and get an inspection when termite swarmers are seen. While finding swarmers in your yard is not a guarantee that termites are damaging your home, the proximity of the termite nest is a concern. Termites will continue to encroach upon your home. They are always expanding their territory a little at a time.
What Attracts Termite Swarmers To Your Home?
Long before you see signs of termites in your yard, there are ways to make your home less of a target. To do so, you have to get into the mind of a termite swarmer. You need to consider what environment a swarmer desires, and deprive them of it.
Moisture: Termite workers need moisture for survival and success. A damp perimeter will lure swarmers because it offers a beneficial habitat. One of the ways your property can have termite-attracting moisture is when gutters get clogged. If rainwater is unable to channel down and away from your home, it will run over the side and onto your perimeter, saturating the ground and allowing water to dampen the surface long after it rains.
Brush Piles: Termite workers love decaying, natural wood sources, and dead branches are perfect. A termite swarm is likely to head right to a brush pile and create a nest underneath. Those stacked branches also provide shelter from the sun and trap moisture.
Exterior Light: If termite swarmers emerge at night, they will head right toward any light source they detect. There are two ways to remove termite-attracting light. Replace white lights with yellow lights, or install motion-sensitive fixtures.
Removing attractants can give you some protection from termites. When you also add routine inspections and keep watch for warning signs, you have an even better chance of avoiding termite damage. But there is an even better solution, one that you don't have to work hard to implement.
Professional Termite Control Made Easy For Colorado Springs Homes
Termite prevention and control is hard work. Why not contact Beeline Pest Control for professional termite control in Colorado Springs? We use Termidor®, the most trusted name in professional termite control. Termidor® has a patented transfer effect. When termites pass through the material, which is undetectable to them, they share the active ingredient with other workers as they groom each other. One by one, the termites are exposed. The process works fast, but not too fast. It is just slow enough so that the termite queen doesn't realize there is a threat until it is too late. The final result is colony elimination. When you want to strike at the source of your termite problem, Termidor® is the solution.
Would you like to learn more about Termidor®, or our guaranteed termite control services in Colorado Springs? We would love to speak with you. Give us a call or drop us a line on our contact page to get the conversation going. Now is the perfect time to get ahead of termite damage and protect your home investment from the damage termites can do.