We'll tell you, upfront, that it isn't easy to keep bed bugs away from your bed. These insects are attracted to your bed because your bed smells like you and because you lay on that bed at night, giving bed bugs an easy opportunity to get a meal. Once bed bugs invade your home, you can't control where they live, and your bed is a likely choice. What you do have some control over is keeping bed bugs out of your home in the first place. Today, we'll dig into some critical facts you'll need if you hope to detect bed bugs, prevent them from hitching a ride home with you, and keep them from finding other ways to get into your home. If you're curious about bed bug control, you're sure to find some great tips here that can keep you from having to call local pest control for bed bugs. If you're late coming to this page and you're already dealing with a bed bug infestation in your home, navigate to our contact page and reach out to us for bed bug pest control in Colorado Springs. Our friendly and experienced technicians are happy to help.
Why Some Bed Bug Infestations Go Undetected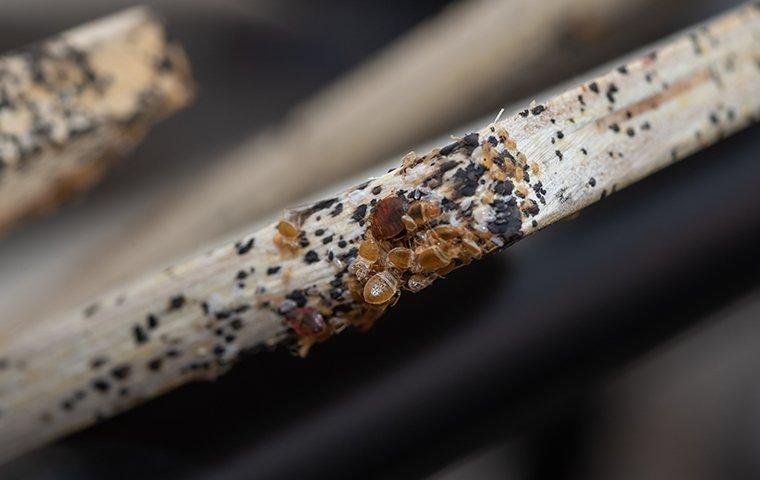 It is essential to understand why your relatives, friends, and others expose you to bed bugs. First, it will help you avoid the misunderstanding that it is somehow their fault. But, most of all, it will help you detect bed bugs when you're away from home and show you how to stop them from getting into your stuff.
It is common for bed bugs to infest a home for several months without anyone detecting them. Why? There are several reasons, actually.
Bed bug bites are often slight at first. The reason has to do with why you get a bump, rash, and itch. Essentially, bed bug bites are an allergic reaction. When you find an itchy, rashy welt on your skin, it is your body fighting off what it perceives as an invasion. The more bites you get, the more your body will attempt to fight. At first, bites may not have a noticeable bite-like appearance.
Some people have less of a reaction to bed bugs than others. One-third of people show no signs when bitten by bed bugs repeatedly. The number of senior citizens demonstrating no symptoms is even higher.
Sometimes, baby bed bugs are the bugs that bite first. Immature nymphs are only 1mm long and they don't administer much anticoagulant when they bite, so the body doesn't have to fight hard to cleanse the wound.
Bed bugs are tiny. We touched on this already, but it deserves its own bullet point. A bed bug ranges from 1/26 to ⅙ of an inch in length. They're not easy to see.
Bed bugs are nocturnal. You won't see these bugs crawling around at first. Neither will your relatives or friends. These bugs prefer to come out at night to feed and will only start appearing during the day when their population has grown.
Bed bugs are attracted to extremely tight spaces. You can have fifty bed bugs in your mattress and not see a single one. They can hide in the seams, under labels, around grommets, inside rips, and more.
Now, that you understand how difficult bed bugs are to find, let's turn the tables. Here's how to find bed bugs during the day, or in the evening when you are about to go to bed, while away from home.
The evidence:
1mm long, yellowish-white, six-legged bugs
4.5 mm long, rusty brown or black-colored bugs that look like apple seeds
Black stains or streaks
Brown spots
Tiny yellowish insect skins
A scent of coriander
Tiny white eggs
Where to look:
Use a debit card or butter knife to check seams.
Use a flashlight to examine recesses in bed frames and furniture near the bed.
Look under the feet of the bed frame or other furniture.
Check blankets, sheets, pillowcases, mattresses, baseboards, outlets, and electronics.
If you find evidence of bed bugs (or even if you don't), there are ways to keep bed bugs from hitching a ride home with you. Let's take a look at a few tips to help you stop those pests in their tracks.
Everyday Bed Bug Prevention Tips
It is common knowledge that Colorado Springs residents pick bed bugs up at hotels and motels, but as we've pointed out, you can get them from relatives and friends. You can also get them from work, school, movie theaters, public venues, taxi cabs, buses, and more. Use these tips to stop bed bugs from coming home with you, whether you detect them or not.
Take the time to perform an inspection and teach your kids to do a quick inspection during sleepovers.
While away from home, protect laundry by putting clothing in a sealed plastic bag. You don't need a fancy bag. A garbage bag and a bread tie are all you'll need.
Store luggage and other bags inside sealed plastic bags or store your luggage up high.
Use a luggage rack if one is provided at the place you're staying.
Wash all laundry items in hot, soapy water when you return home. Then, run your clothing through a dryer cycle.
When at work or school, refrain from setting your personal objects, particularly bags, next to those of coworkers or fellow students.
If you believe bed bugs have gotten into an object you own, put it through the dryer, or store it in a freezer for four days. If this is impossible, contact a licensed professional to get the item treated.
It is sheer misery to deal with a bed bug infestation. Keep that in mind as you decide whether or not to perform an inspection or take steps to keep bed bugs out of your bags. We know it is a pain to have to think about bed bugs, but it can have a big impact.
Where Do Bed Bugs Come From?
We've already covered some of the ways you can get bed bugs. Would you believe there are more? As you consider bed bug prevention, it is helpful to know how you can get bed bugs and some of the hot spots for picking these pests up.
You can get bed bugs in public transportation.
People have gotten bed bugs from library books.
A bed bug infestation can begin after purchasing used furniture, including couches, living room chairs, and office chairs.
A bed bug infestation can come by way of a piece of furniture you might never expect, such as a piano stool or a piano.
A bed bug infestation can begin after buying electronics, such as alarm clocks and computers.
Bed bugs can go from one apartment to another by way of wall voids. Once a bed bug infestation matures, the bugs will look for new feeding areas and may enter walls.
You need to keep guard to prevent bed bugs from finding their way into your home. There is no other way to stop bed bugs—not even exceptional pest control service around your home. So, go easy on your pest control service provider if you find bugs in your home. The only solution a professional can offer you for ongoing bed bug protection is routine inspections. If you don't have these inspections, you don't have any bed bug protection in place. These insects don't live in your yard. They only travel from structure to structure.
How To Get Rid Of Bed Bugs In Your Home For Good
We're often asked this question. We wish we could say that there is a service that will prevent bed bug infestations. The best we can do is provide you with the latest preventative information and routinely inspect for bed bugs to catch them early. But, of course, it is best to contact a professional for bed bug control in Colorado Springs rather than battle them yourself. A licensed professional uses field-tested methods to corral these pests and ensure every bug is eliminated.
We've found that even when residents know where bed bugs hide, how to identify bed bugs, and what works to arrest an infestation, they still have trouble. Why? Because these are not your ordinary bugs. Cimex lectularius has been living almost exclusively inside human domiciles since the dawn of human history. They've always been with us. If these irritating, creepy, biting pests were easy to control, we would have driven them to extinction. The fact that they're still around is a testament to their resilience.
Are you in Colorado Springs? Contact Beeline Pest Control for advice regarding a bed bug infestation or preventative measures. We're here to help you address all of your pest concerns. Our team has the training, experience, and certifications to provide you with the highest level of pest control. Contact us by phone or reach out to us through our contact page. We can help you find the right solution. You don't have to let the bed bugs bite.