Mice are clever and mysterious pests. When we're asked, "What is the fastest way to get rid of mice?" we have to say that hiring a professional is the best option. It is the truth; mice have natural abilities that help them avoid traps, but having mice avoid your traps isn't the worst part. You may catch a few mice, no longer see mice in your traps, and no longer hear mice climbing in your walls. Why is this a bad thing? Because mice can learn to avoid your traps and continue to infest your home quietly, long after you attempt to trap them. When they do, they can continue to make you sick and damage your property. Today, we're going to spotlight mice. We'll look at how to tell that mice are getting into your home (or are still in your home). We'll discuss how mice make you sick. We'll share some natural ways that actually work to keep mice out of your house. And we'll talk about how a professional deals with mice when they get in. If you've already tried to address the mice in your home and they're driving you crazy, you don't have to read an article about how to combat mice infestations in Denver. You can give us a call or reach out to us through our contact page. Beeline Pest Control provides advanced rodent pest control in Denver. We're not just your source for pest management tips. We can take care of your pest control issues for you. With that said, let's get into our subject for today. Here's what every Denver resident should know about mice.
How To Tell If It's Mice In Your Home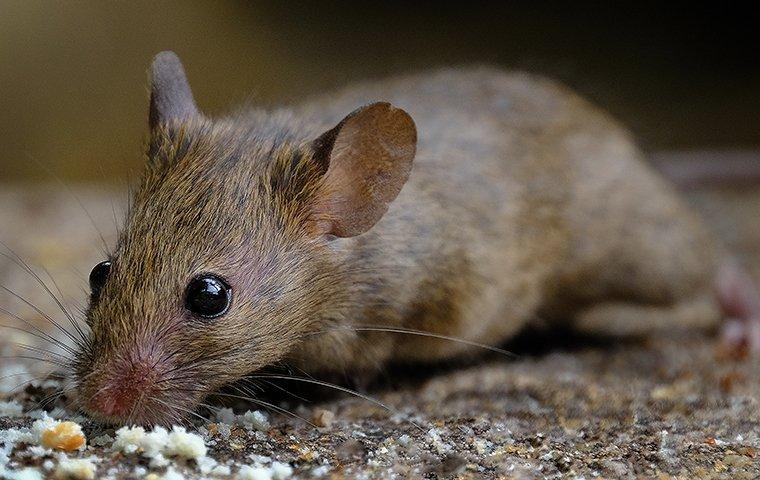 When you have mice in your home, you'll hear mice sounds, right? Mice scrape and bump inside walls. Mice bump around in your attic. Mice squeak. Are all of these true? Yes. Mice do these things, but more often, they make no noises that you're able to detect. You can have hundreds of mice in your home and not know it! We don't recommend relying on mice noises to alert you to a problem or to help you tell that you still have mice in your home after you've taken the time to capture and remove them. Here are a few ways to tell that you have mice exploring your home.
Droppings: There is no better way to analyze a mouse infestation than to locate and inspect mouse droppings. Sorry. It is kind of gross. Mouse droppings are also a source of contamination, so you'll want to wear a mask or respirator and put rubber gloves on. Once you're prepared to find droppings, use these quick facts to help you get the job done.
Mice leave droppings in secluded spaces and hiding places. You may find droppings in the cabinet under your kitchen sink. That is a quick and easy way to detect mice. You may find droppings under your stove, refrigerator, or another appliance. You may find them behind your stove or behind things that lie on the floor in your pantry or laundry room. If you don't see droppings in your common areas, check your attic. You may see droppings on your insulation or inside stored items.
When you find mice droppings, consider the size. Mice aren't the only pests that leave droppings in your home. The droppings left by mice are slightly smaller than grains of white rice. Droppings smaller than this are insect droppings. Droppings larger are rat, squirrel, or bat droppings.
When you find mice droppings, consider the color and texture. Fresh droppings are black and shiny. They're also moist. Inspecting these characteristics can help you tell if you have a current infestation.
Clean mouse droppings up when you find them. What does this do? It will help you determine whether or not mice are still exploring this area of your home. If you return in a few days and find more droppings, you know you still have a problem.
There is more to this, but we've covered the most important facts. Finding and inspecting droppings is extremely helpful for analyzing a mouse infestation.
Holes: Mice make holes in many places. The holes they chew are small. They'll chew tiny holes in food packages, stored furniture, baseboards, sheetrock, weatherstripping, door sweeps, and more. The holes mice create are small. An adult mouse can squeeze through a hole about the size of a nickel.
Pet Behavior: When mice are in your pantry or kitchen, your dog or cat may notice. They can hear and smell things you can't. If your pet is acting strange, they may be alerting you to mouse activity, particularly at dawn and dusk.
If you don't correct a mice infestation, they can continue to make you sick. This is why we spent so much time discussing how to detect them. But, before we move on to prevention and control, it is essential that you understand how mice cause sickness.
Can Mice Make You Sick Without Touching Them?
You don't have to see or touch a mouse to get sick. The mice in your home move about while you're sleeping and they spread organisms. Some of these organisms are invisible to the naked eye. We often refer to these as germs. Mice can get germs from sewers, trash receptacles, junk piles, decaying animals, mop buckets, animal waste, their own waste, and more. When a mouse crawls across a counter, cutting board, or dish, it contaminates these by accident. When a mouse gets into your food, it contaminates your food. These tiny rodents don't mean to cause us any harm, but they present a health concern simply by doing what they do in our homes.
The waste left by mice in secluded spaces, air ducts, and other locations can become a source of respiratory illness. Mice are linked to the spread of Hantavirus. When waste dries, and particles become airborne, there is a risk. The more mice you have in your home, the greater the risk.
Mice can pick up some organisms that aren't microscopic. A little mouse can bring ticks and fleas into your home. These two pests are also linked to disease transmission. It only takes one infected tick to expose you to Lyme disease, if it is a deer tick.
It is best to deal with a mouse infestation appropriately. If you're in Denver, contact Beeline Pest Control for assistance.
Natural Ways To Keep Mice Away From Your Home
Long before mice get into your Denver home, there are many ways to keep them away. While we don't recommend that residents address infestations on their own, we encourage mouse prevention. Natural methods don't present any risks to your health and they don't require pest control knowledge. Here are some examples:
Manage trash to reduce smells that attract mice from a distance.
Remove bird feeders. Seeds are a dietary staple for a tiny mouse.
Pick up junk piles and clutter in the yard. Mice need these to help them navigate in your yard.
Trim bushes, shrubs, and ornamental plants in your landscaping to remove hiding places for mice.
Apply hardware cloth to keep mice from getting under your back deck, stairs, and inside other voids underneath structures.
Use a caulking gun or expanding foam to seal gaps around pipes and PVC conduits.
Replace weatherstripping and door sweeps if you're able to see light leaking in from the outside in the middle of the day.
It takes work to deter mice and keep them out of your home. But it is much nicer to deal with mice on the outside of your home rather than after they've had time to find a place to live on the inside.
Call The Pros At The First Sign Of Mice In Your Home
While you have many options to keep mice out of your home, it is best to call a professional when mice get into your home. A professional will use a multi-pronged strategy to catch and remove mice. A professional has the specialized knowledge to monitor mouse activity and find subtle signs of continued infestation. Your pest professional will also employ a complete strategy. It isn't enough to remove mice. It is critical to address the conditions that lead to (and are continuing to cause) your infestation. Rodent control and management is a science. Let a licensed and trained technician handle this complex job in a professional manner.
Are you in Denver? Contact Beeline Pest Control. Our technicians are licensed, certified, and experienced. They know what mice are capable of and they've seen all of the many ways mice avoid treatments. You're in good hands. Jump over to our contact page and tell us a little about your rodent control issue. We'll connect with you and help you decide on the right course of action for your specific needs and budget. When you have mice questions, it pays to ask a professional for the answers. Connect with us today for assistance.