Oriental cockroaches are some of the most common roaches in the country, and they're a frequent problem in Colorado Springs. Here's what local homeowners should know about what Oriental cockroaches look like, how dangerous they can be, how hard they are to get rid of, and how to get rid of cockroaches with pest control in Colorado Springs.
What Do Oriental Cockroaches Look Like?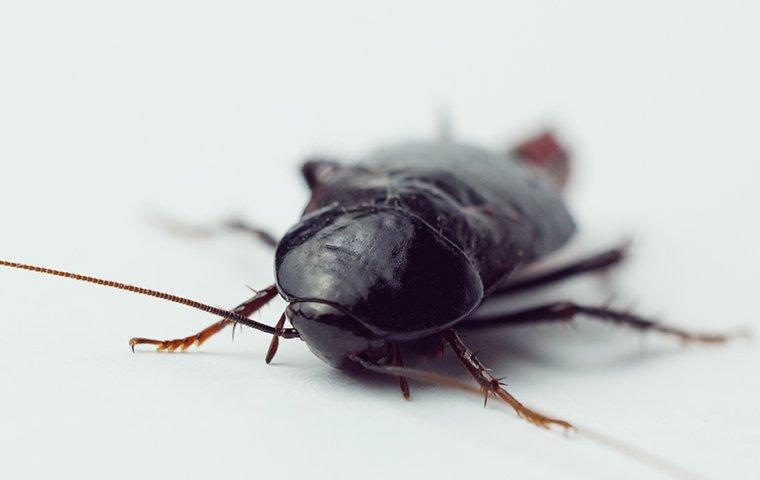 Sometimes also called "black beetles" or "shad roaches," Oriental cockroaches are easy to recognize at first glance since they often have very dark brown to nearly black coloring. These roaches also tend to have a glossy, shiny appearance.
Male Oriental roaches have wings, but they're not capable of flight, so if you see flying cockroaches in your home, they are not Oriental cockroaches. As far as size goes, Oriental cockroaches tend to be one of the larger roach species. Although they aren't quite as big as American cockroaches, they're still bigger than German cockroaches at 1 ¼ inch.
Some other key Oriental cockroach facts to understand include:
Oriental cockroaches are sometimes called "water bugs" because they love moisture and are frequently found in water drains and sewers.

While Oriental cockroaches can easily live outdoors when the weather is warm, they may seek shelter inside during the colder months or if there's a drought.

As long as they have water, Oriental cockroaches can survive up to a month without a food source.

Oriental cockroaches can live for a week without their heads.

Female Oriental cockroaches carry egg capsules containing new eggs for about 30 hours and then deposit the capsule on a protected surface near a food source.
If you see signs of Oriental roaches in your home it is important to take action quickly.
Oriental Cockroaches Can Be Dangerous
Nobody wants to share their home with cockroaches, but did you know that Oriental cockroaches can also be dangerous? There are a couple of ways in which Oriental cockroaches can be hazardous. Oriental cockroaches can spread bacteria and contaminate your home with it. These roaches spend a lot of time in damp, moist areas like water drains and sewers to obtain moisture and feed off organic materials.
Living in these unsanitary conditions also allows Oriental cockroaches to pick up harmful pathogens like salmonella or staphylococcus. When they enter your home and start looking for food, Oriental cockroaches can spread bacteria to food or surfaces where you eat and prepare food.
Besides contaminating food and your home with bacteria, Oriental cockroaches also secrete an enzyme in their saliva, discarded skin, and droppings, which can trigger allergies and asthma symptoms in some people. Symptoms of an asthma reaction or allergy could include puffy, red eyes, stuffy nose, coughing, and sneezing.
Can cockroaches kill you? Cockroaches and the diseases they carry aren't likely to kill you, but they can make you sick.
Oriental Roaches Can Be Very Hard To Get Rid Of
More than just being a health risk, a cockroach infestation can also be incredibly difficult to get rid of, and Oriental cockroaches are no exception to this. There are two reasons for this: Oriental cockroaches are excellent hiders and reproduce quickly. A single female Oriental cockroach can lay around 128 eggs in its lifespan. Given that Oriental cockroaches only live six months in total, it can take less than a year for tens of thousands of Oriental cockroaches to be born in your home.
Despite how big infestations can get, Oriental cockroaches can often go unnoticed for long periods of time. Not only are they nocturnal and most active at night, but Oriental cockroaches are capable of fitting into tiny gaps, cracks, and crevices in your home.
The Secret To Effective Cockroach Control In Colorado Springs
Over-the-counter cockroach control products are rarely effective, but there is a secret to total cockroach control in Colorado Springs: Beeline Pest Control. As a locally-owned and operated company, we've been serving the Colorado Springs area and surrounding locales for more than a decade.
If you're seeing Oriental cockroaches around your home or even finding another type of cockroach, there's only one thing to do. Contact us today at Beeline Pest Control for a free estimate for our cockroach control services or to inquire more about how we can help.