Pavement ants in Denver can be a nuisance. You can find them in your yard, along your driveway, in cracks in your foundation, and eventually in your home. Even though they are non-aggressive ants, they can sting. Once in your home, they can spread bacteria onto food surfaces and any unattended food.
To eliminate pavement ants in Denver, reach out to the professionals at Beeline Pest Control. They have the tools and knowledge needed to rid your property of these annoying pests. Continue reading for more information on pavement ants and pest control in Denver.
What Attracts Pavement Ants?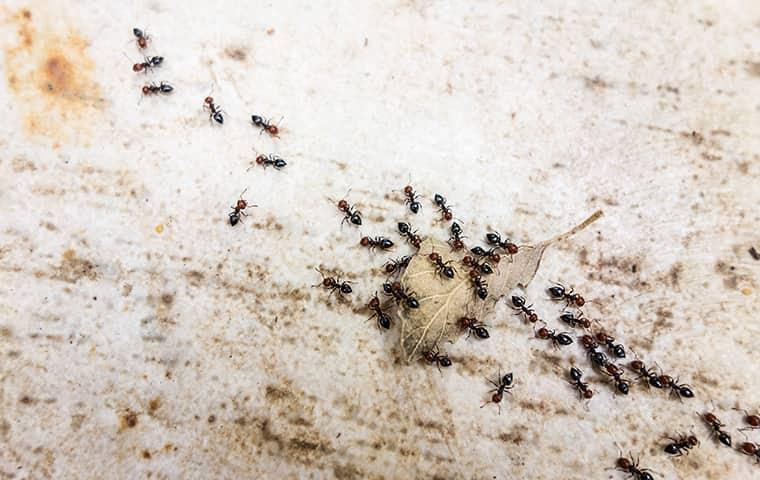 Pavement ants like food and moisture, and while they prefer a humid outdoor environment, they can come indoors if food or water sources are scarce. Inside they will hide in walls, insulation, and under your floors and tiles. You can find them outside under sidewalks, inside cracks in the pavement, under rocks and stones, and next to buildings. These are a few areas that collect water.
In addition, pavement ants are not picky eaters. They will eat insects, seeds, honeydew, bread, meats, nuts, and cheese. If you spend time tailgating and barbecuing in your driveway, it's essential to practice pavement ant care and clean up spills as they happen. Crumbs, sticky drinks, and even trash cans will draw pavement ants by the hundreds.
Dealing with pavement ants in the winter can be challenging. Pavement ants will come indoors, nest in your foundation, and under floors during colder weather. They prefer greasy foods and may feast on your dog or cat food if it's available. Unlike many other insect species, pavement ants do need warmth. Dealing with pavement ants in the winter may be more complicated than dealing with them on your driveway during the summer.
How Do I Get Rid Of Pavement Ants On My Property?
Making changes to your home and yard will help eliminate pavement ants. To deter pavement ants from taking up residence around your home, try these tips:
Use a silicone-based caulk to seal cracks and holes around your home's foundation.

Repair cracks and potholes in your driveway that can accumulate moisture.

Repair anything causing excess moisture around the foundation of your home, including poor runoff, clogged gutters, leaking pipes, and landscaping issues.

Store outdoor trash away from home in a sealed container.

Sweep up and clean up any food or liquid spills immediately.

Indoors, vacuum often, and use dehumidifiers in rooms with lots of moisture.

Sanitize your kitchen counters, keep your sink empty of dishes, and regularly take out your indoor trash.
Food and moisture are the main draws into your home with ants and most other pests. By cutting off access to your home, you can prevent most pest issues.
Natural Ways To Deter Pavement Ants
To get rid of pavement ants naturally, you can do temporary treatments that will clear your driveway for a short time. These treatments may help you avoid pavement ant bites at your gatherings and make you and your guests happier. To get rid of pavement ants naturally, try these tips:
Place whole cloves, bay leaves, cinnamon, or turmeric near concentrated areas.

Make a 1 to 1 solution of apple cider vinegar and water and spray along the cracks in the pavement.

Sprinkle table salt in cracks along your driveway and where ants are present.
The best method to permanently eliminate pavement ants in the winter is with professional help, but for temporary relief, try applying these solutions to cracks around your home's foundation and inside your basement.
How To Get Rid Of Pavement Ants Permanently
To get rid of pavement ants, avoid pavement ant bites, and enjoy spending time on your driveway again, trust Beeline Pest Control. After your free estimate, we will develop a treatment you won't be able to resist that will thoroughly and permanently eliminate pavement ants and keep them from invading your home again.
The professionals at Beeline Pest Controls will follow up with you and provide free treatments if they return before our next visit. The secret to total pest control is with long-lasting extermination services and a long-lasting relationship with your local pest control professionals at Beeline Pest Control. Give us a call to schedule your free inspection today.