In some parts of the world, cockroaches are considered a delicacy. Yup. People eat them. If you know this, you might not think that cockroaches are a big deal. When roaches get into your home, most of them are going to stay out of sight. Experts say that seeing one roach is a warning sign that there are thousands infesting a structure. When you're only seeing one roach every once in a while, and you have the idea that roaches are clean enough to eat, you might shrug these insects off. We strongly advise that you don't shrug them off. Here's what every Colorado Springs resident should know about roaches.
Wild Cockroaches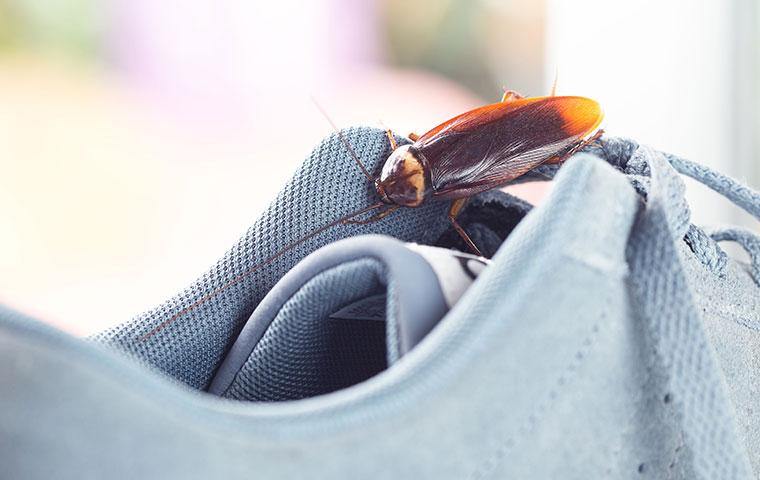 There is a big difference between a roach that is raised in captivity, and a free-roaming roach. Cockroaches are naturally drawn to rotting organic matter, feces, and other disgusting things. This exposes them to microorganisms that are harmful to humans. They're not born with these organisms. When a cockroach is raised in captivity (for instance, as a food source for humans) it can be fed a controlled diet that does not introduce them to harmful microorganisms. This is why they can be eaten. We assure you, it is never a good idea to eat a wild cockroach, particularly one that lives in an urban environment—not that you ever would. We make this point to bring to light the most important reason cockroaches are dangerous.
Born Dirty
In the urban jungle, cockroaches aren't typically born under bark, sticks, or in logs. They're most often born in dumpsters, trash cans, sewers, and in other dirty places. This is because female roaches lay their oothecae (egg cases) in dirty places. So while cockroaches aren't born with disease-causing organisms in them, or on them, they can be immediately exposed.
Strong Insects
It takes a lot to kill a cockroach. This is one of the reasons why they're able to pick up (and even digest) microorganisms that would be very harmful to you. When a roach gets into your home, it can spread these microorganisms by getting into your food and by crawling on counters, cutting boards, plates, silverware, and even your toothbrush. It isn't something any of us want to think about, but it is important to know. You should also be aware that when you attempt to exterminate cockroaches with chemicals, they can pick harmful chemicals up and transport them to these sensitive places. This can make you very sick.
Known Vectors For Disease
We could give you a long and scary list of the diseases that cockroaches are known to carry and transmit, but the goal of this article is not to scare you. We want to alert you to the dangers that these insects are known to represent. Studies have shown that cockroaches are able to spread at least 33 kinds of bacteria, more than seven human pathogens, and at least six named parasitic worms.
Allergens
Along with spreading diseases, cockroaches are also known to aggravate allergies. They can cause rashes when they crawl across the skin, and they are linked to increased hospital visitations for asthma-related symptoms.
Cockroach Bites
The danger most bugs present is their ability to spread diseases when they bite. Cockroaches in Colorado Springs spread diseases through direct contact, shed skins, and the depositing of feces. It is rare for cockroaches to bite. This is because roaches don't eat living flesh. They eat carrion, and decaying organic matter. They can, however, bite by accident. They are known to feed on dead skin in eyelashes, eyebrows, and around the mouths of sleeping people. This can lead to bite wounds.
Mobile Insects
It isn't enough that roaches are often born in dirty places and that they eat dirty things, these insects are also incredibly mobile. A cockroach can run across a ceiling at full speed and squeeze through a gap more than half its height. The nymphs of some species are small enough to crawl through the holes in an electric outlet. If you practice a high level of sanitation inside your Colorado Springs home, keep in mind that roaches can be exposed to dirty things outside your home and then get inside to expose you to them. This is the unfortunate reality.
What Can You Do?
If you see even one cockroach in your home, contact a licensed professional. Roaches are dirty insects that can go in and out of your home on a routine basis. A pest control technician can inspect your property, develop a treatment plan that includes the application of control products and the implementation of pest maintenance, and monitor to ensure the success of the treatment program. In light of the ways cockroaches can make you sick, this is the best course of action. For home pest control in Colorado Springs, reach out to Beeline Pest Control for service.
Bed Bug Control
At the first sign of Colorado Springs bed bugs, contact Beeline Pest Control. We know what you're going through, and we know what is required to eliminate all the bed bugs in your home. Reach out to us for advice or to schedule service. We can help.