Ants are frustrating pests. They can come into your Colorado Springs home by the hundreds of thousands and make life miserable. If you've had just about enough of ants, then we have some good news. There are ways to keep ants out, and you don't have to spray chemicals around your home to get the job done. Here's what you can do.
1. Alter Conditions Near Your Home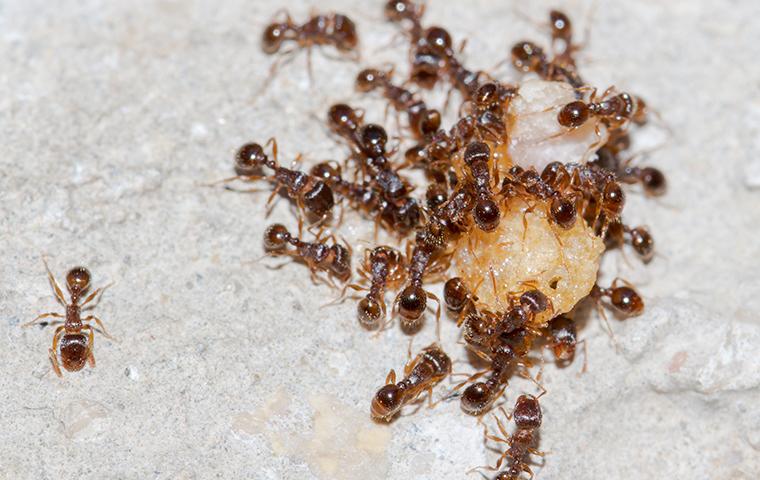 There are attractants that can make ants want to live close to your home. If you remove or reduce these, you'll have fewer ants exploring your exterior and accidentally getting inside.
Leaves — It is amazing how leaf litter can make ant populations grow around a home. If you have leaves scattered about or in piles, it is a good idea to rake or blow them away from your home and out from underneath your deck or other structures.
Moisture — Most ants want to live in damp environments. There are many ways you can provide this dampness. Leaf litter is one of them. Moisture can get trapped under the leaves. But it is far from the only condition that can lead to damp habitats near your home. A few other common factors are clogged gutters, broken downspouts, plumbing issues, dense vegetation, stacked wood, and general clutter.
Trash — Many ant species are attracted to rotting organic matter. If you have open trash, or you have a container that has an odor, you can lure ants close to your home. Remove trash routinely from your property and keep your receptacles as clean as possible.
Honeydew — When aphids, scales, or other plant-damaging insects get into your landscaping, they can attract ants with the honeydew they excrete. Honeydew is a sweet food source for ants. You can resist plant-damaging insects by keeping your plants healthy and dry.
2. Seal Your Exterior
Ants are tiny. It is impossible to seal every opening they could use to get into your home. But there are some trouble spots that, when sealed, can offer quite a bit of resistance.
Make sure your door sweeps have a good seal.

Make sure the weatherstripping around your doors doesn't offer tiny gaps.

Seal cracks in your foundation walls.

Seal openings around water mains, wire conduits, etc.

Fill in gaps between your sole plates and your foundation walls.

Fill in holes created by carpenter ants, carpenter bees, and other wood-destroying pests.

Inspect your interior and address gaps inside. Examine window and door frames, gaps in cabinets, and gaps around the pipes that come in under your kitchen sink.
3. Keep Your Interior Clean
When ants get inside and find a food source, they alert other workers in their colony. This leads to an invasion of your home and a frustrating ant issue. But it can also inspire some ant species to develop a nest in your home. This can lead to frequent frustrating ant issues. When you keep your home clean, you remove smells that attract ants and food sources that give ants what they're looking for most.
Clean your floors and carpets frequently.

Clean under your toaster.

Clean up spills immediately.

Keep your interior trash receptacles as clean as possible.

Deep clean around appliances.

Inspect and clean your couch.

Consider only eating in your kitchen or dining room to remove potential food sources around your home.

If you have kids, do routine inspections for accidental food sources they can leave around, like a cookie lying on the floor under the couch.
4. Address Interior Water Sources
While ants can derive much of the water they need from the foods they consume, they prefer to have water sources available if they're going to live in your home. One factor that can resist this is to fix leaky faucets and plumbing issues. When you use your faucets, water droplets remain for a short time and evaporate. A constant drip can provide a constant source of droplets, which will give ants all the moisture they need.
Added Protection
If you have low ant pressures, you may be able to entirely exclude ants from your Colorado home. If pressures are medium, you may still be able to get ants below your comfort threshold. Ants are not considered a health threat, so it is okay if you deal with them every once in a while. But when ants are continually getting in, or you have a low tolerance for them, ant control products are necessary for the best control possible. These should be selected and administered by a licensed professional.
If you need assistance with targeted ant mound treatments, ant baiting, or routine exterior treatments to repel and control ants, remember that Beeline Pest Control is always available to assist you. Connect with us and tell us about your ant problem. We can help.