Are you seeing oval-shaped insects in your home? If so, they could be cockroaches. If they are tan with a dark equal sign on the backs of their heads, they could be German cockroaches. If they're black or brown with no equal sign, they could still be German cockroaches. When German cockroaches first hatch, they are black. This black coloration moves to their sides as they develop. As a nymph develops, it can begin to look brown with black lines running up the prothorax. After about six instars (developmental stages) this black coloration can only be seen above the wings of the adult insects, which makes it look like it has a black equal sign on the back of its head. If you're seeing nymphs in your Colorado Springs home, it might be difficult to identify them as German cockroaches if you're not aware of how these roaches change in appearance over time. If you do manage to identify these as the cockroaches in your home, there are a few things you should know about them.
German Cockroach Distribution And Habitation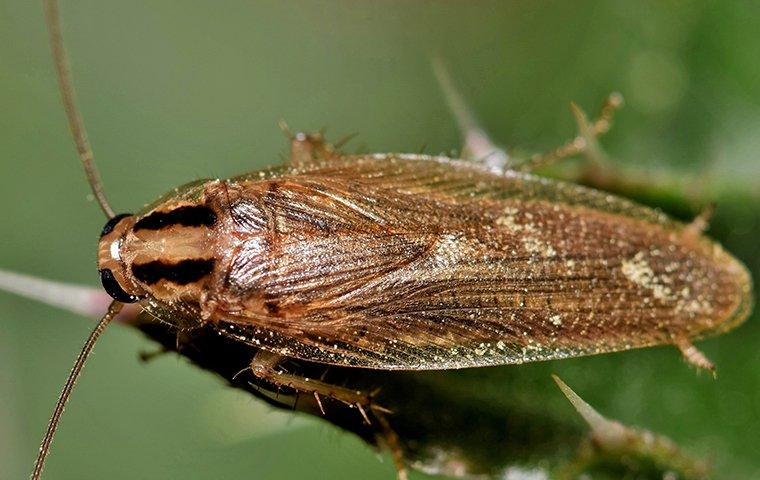 When it comes to cockroach pests, no roach can compete with the German cockroach. One of the reasons it outpests its competition is that it has a greater tolerance for dry conditions. Its close rival in the pest department is the American cockroach. While American cockroaches can infest a structure, they prefer structures that have damp or humid spaces. Otherwise, they prefer to be outside, crawling around in damp vegetation and on dampened soil. German cockroaches also prefer humid or damp spaces, but they can get along without them. This, along with their love for temperatures that humans prefer, is why they've taken to living with us. They're so happy to stay in man-made structures that there are currently no known populations of wild German cockroaches in the world. These insects stay inside, or in very close proximity to structures. If they are found outside, it tends to only be in tropical environments. Their ability to adapt to being indoor pests is what has allowed them to live in a wide variety of structures throughout every continent of the world, excluding Antarctica.
German Cockroaches As A Medical Concern
When German cockroaches infest a structure, they can make the inhabitants very sick. They are able to pick up and transport harmful organisms from garbage and other dirty places. They are implicated in the spread of human pathogens. Studies have shown that cockroach populations within urban structures have led to an increase in hospital visitations for respiratory issues. And they are known to spread at least six parasitic worm species. If all of this is not enough to not want these roaches around, here are a few more facts to consider:
They're known to take drinks from the mouths of sleeping people, or eat crumbs off the skin.

They're attracted to the bristles of toothbrushes because they eat toothpaste.

They roam around in bathrooms and contaminate surfaces as they search for hair or dead skin to eat. In this environment, they can go from a toilet rim to a bathroom sink in a matter of seconds.

They have the ability to chew through paper and cardboard and can enter stored foods. Once inside, they contaminate the food with organisms from their bodies and from the feces they leave behind.

They feed on rotting organic matter in trash cans and then climb around in kitchen cabinets and drawers, exposing dishes, silverware, and other kitchen items to invisible organisms.
German Cockroach Control
It is extremely difficult to exterminate German cockroaches. These insects can develop an immunity to chemicals. They can hide in walls, cracks, and crevices where topical sprays can't reach them. They can learn to avoid baits that are put down to eliminate them. And German cockroaches can live for a month without food. So you're not likely to starve them.
If German cockroaches get onto your property, reach out to us for home pest control and commercial pest control in Colorado Springs. We use field-tested methods to locate and eliminate cockroach pests. Let our licensed pest management professionals develop a strategic plan to address your cockroach infestation and make sure no roach is left behind.